Maple Candy in Ontario
$0.40 – $2.00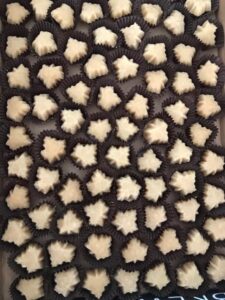 For over one hundred years, Century Maple's family farm in Ontario has produced high-quality, award-winning maple syrup and other maple products. We believe in making maple syrup and maple candy the traditional, time-tested way, which produces an overall better product. To learn more about how we make maple candy and syrup or to place an order, give us a call today.
Maple Sugar Candy
We make delicious maple sugar candy that melts in your mouth. Our small 7-gram leaf costs $0.40; the medium 21-gram leaf is $1.00; and the large 39-gram leaf is $2.00. If you want to buy over 100 pieces of our maple candy for parties or wedding favours, we can give you wholesale prices.
Maple Taffy
Our maple taffy is perfect for parties, special occasions, or even just a daily treat. It comes in a 300-gram tub, which is priced at $12.00. All you need to do is heat it in your microwave. Once it is heated, you can pour it onto crushed ice or fresh snow for a delicious winter treat.
How We Make the Candy
We prefer to make our syrup and candy the old-fashioned way, boiling the sap for many hours so that it enhances the maple flavor. This traditional way of making syrup and candy leads to a delicious end result.
Call us at (613) 278-2931 to learn more about how we make our maple candy and to place an order. If you are interested in visiting our family farm, we will be happy to give you a tour and to show you how we make our award-winning maple syrup and candy.
Additional information
| | |
| --- | --- |
| Weight | N/A |
| Size | Small Maple Leaf Candy, Medium Maple Leaf Candy, Large Maple Sugar Leaf Candy |