COME AND VISIT THE SUGAR CAMP!
Our sugar camp and sugar bush is open to the public during the maple season. Come on out for a country drive and experience how maple syrup is made in the Lanark Highlands!
We will be happy to give you a tour, and you can learn about how we make Canada's signature product!
Please call ahead to ensure that we will be boiling on the day you would like to visit!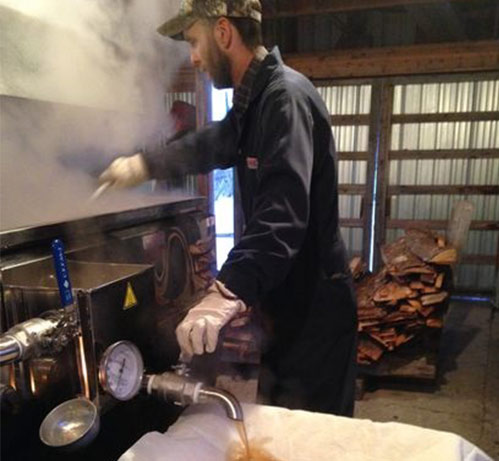 Our Products and How to order:
Glass or plastic containers.
Individual custom orders are accepted (wedding favours, special order gifts etc)
Whole sale prices available on request.
Enjoy this delicious spread on toast, or use it in a variety of ways in your cooking!
Larger quantities by special order. Wholesale Maple butter is also available.
(granulated, for use in baking, on top of oatmeal/cereal in sauces and spice rubs)
Melt in your mouth maple sugar candy! A special treat!
Small maple leaf (7 grams) - .40 cents each

Medium maple leaf (21 grams) - $1.00 each

Large Maple sugar leaf (39 grams) - $2.00 each
Wholesale orders available for quantities over 100 pieces. Also available as wedding favours.
Made ahead and packaged, simply heat in your microwave and pour on snow or crushed ice for a sweet maple taffy treat!!
Perfect for winter parties, school treats, or special occasions!