Maple Syrup
$6.00 – $65.00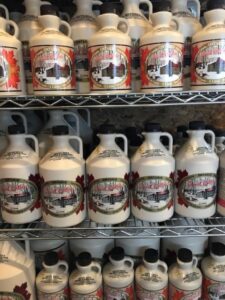 Deliciously sweet Maple Syrup.
Our maple syrup is freshly tapped and prepared without the use of chemicals or filters. In other words, we make pure, small batch syrup that doesn't sacrifice quality for quantity. This preserves the taste our family has been delivering for 5 generations and counting. We never settled for anything less than pure syrup and neither should you!
Pure maple syrup is natural and nutritious. It delivers more nutrition than all other common sweeteners and has one of the lowest calorie levels. It is also one of the lowest on the glycemic index. It contains minerals, nutrients and vitamins.  (PIC OF NUTRIENT TABLE or graphic found online with nutrient count)
100 percent natural essence of tree.
Additional information
| | |
| --- | --- |
| Size | 250ml, 500ml, 1 Litre, 2 Litre, 4 Litre |